Around Three Pines View
Things to do and see that are free, next to free, or just plain interesting.
Lake Jocassee and nearby History
Clemson University is one of the country's most selective public research universities with a uniquely driven and highly accomplished student body.
Love sports? The Clemson Tigers are fierce and passionate competitors with a history of excellence. Whether you are a Clemson fan or fan of the visiting team, we welcome you to Three Pines View! Enjoy the rush of the game and then relax after the game in our peaceful setting.
South Carolina Botanical Garden - Clemson
Take a look around the Upcountry South Carolina website for anything and everything to do around Three Pines View. Also check out Scenic11.com, an Upcountry partner site.
Directions to the Clemson University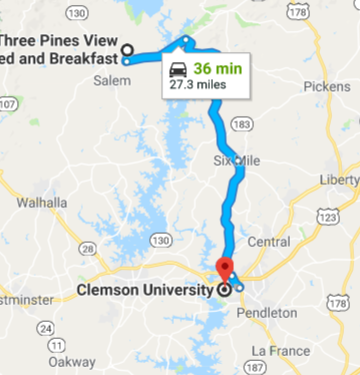 Take Shack Hollow Rd to Jocassee Lake Rd. Right on Jocassee Lake Rd to SC-11. Turn left on SC-11 to SC-133. Continue on SC-133 to Clemson University.